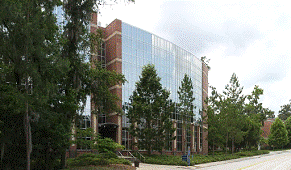 The New Engineering Building (NEB) of UF. Our lab resides on the fourth floor of NEB.
The Spectral Analysis Laboratory (SAL) focuses on the spectral analysis of digital signals. Our goal is to establish realistic data models and devise accurate and robust spectral estimation algorithms for applications including but not limited to
Spectral Estimation
Statistical Signal and Array Processing
MIMO Radar and MIMO Communications
Signal Processing for Biomedical Applications
Genomic Signal Processing
Our results are aimed at solving practical problems and are based upon solid mathematical and statistical analysis theories.
Lab members can go to SAL Wiki for server maintenance (you must be within the UF network).
"A friend is one who walks in when others walk out"
-- Walter Winchell (American newspaper and radio commentator, 1897-1972)
"A problem well stated is a problem half solved"
-- Charles F. Kettering (American engineer, inventor of the electric starter, 1876-1958)
Nothing in the world can take the place of persistence